EAST Initiative Training & Support

The EAST Initiative (www.eastinitiative.org) is an educational initiative built around student-centered project-based learning, in which students use cutting-edge technology while developing community service projects. CAST is pleased to have been the very first education partner of EAST.
The EAST model originated at Greenbrier High School (Greenbrier, Arkansas) in 1996, and is now organized as an independent nonprofit organization. EAST is found in more than 220 schools in five states with thousands of students learning how to identify and solve problems in their local communities using 21st century skills and innovative thinking. EAST schools are equipped with classrooms containing state-of-the-art workstations, servers, software and accessories, including GPS/GIS mapping tools, architectural and CAD design software, 3D animation suites, virtual reality development and more.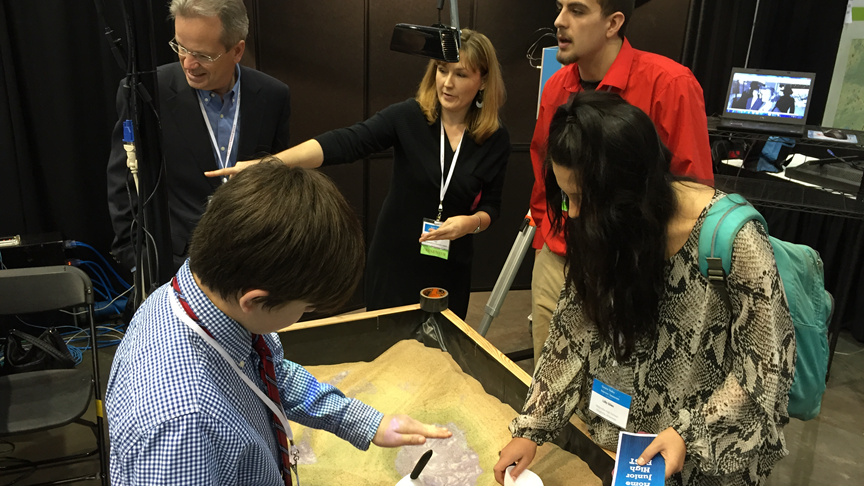 Geospatial and Visualization Technology Support
EAST_support@cast.uark.edu
---
CAST's involvement with the EAST Initiative is primarily focused around geospatial and visualization technologies, which are applicable to a broad spectrum of student community service projects.
CAST research staff collaborate with EAST's administration to provide a wide variety of training and support services to EAST students and teachers. These include:
multi-day technology workshops for students
full-day visits to EAST schools
student and teacher support through the EAST web forum, e-mail, and telephone
technology introductions for EAST teachers
and, break-out sessions, presentations, demos, and support at the annual EAST Conference
More Information
---
Want to know more about the EAST Initiative?
Contact eastinfo@eaststaff.org
Want to know more about EAST Support at CAST?
Contact Malcolm Williamson
The EAST Initiative's Fayetteville Training Center
JBHT 263, 264 and 265
---
CAST supports and manages the EAST Initiative's Fayetteville Training Center located on the 2nd floor of the J.B. Hunt Transport Services Inc. Center for Academic Excellence (JBHT) building on the University of Arkansas campus.
The EAST suite -JBHT 263, 264 and 265- houses a training facility, conference room and the EAST Alumni lounge.
Facilitators and students attending training should park in the Harmon Avenue Parking Garage if arriving in a personal vehicle. Don't forget to bring in your ticket to get validated!
If arriving by school bus or larger vehicle, please contact the EAST Support Staff at CAST prior to training for parking instructions.
Facilitators and students are welcome to arrive as early as they wish; however, the EAST lab doors will not be unlocked until 8:00am.
Ample seating, restrooms and vending machines are all available on the 2nd Floor of the JBHT building in the atrium near the training center.